Following on from the race in Brazil, we're at another fast, challenging and dangerous circuit, the Autodromo Enzo e Dino Ferrari in Imola in northern Italy. The race has a lot in common with the one at Interlagos so the same general advice about being cautious applies. Here are some specific tips:
Know your overtaking points. They exist on nearly every corner, but most opportunities only open up for a moment so you have to be committed.
Be careful where you try to overtake on the long run from the grid down to the Tosa hairpin. Use slipstreaming to get by on the left into Tamburello or on the right on the long section afterwards. Never overtake on the right into Villeneuve or you'll get cut up; hold back and go by under braking on the inside.
There's nearly always a big pile-up on the first lap at the hairpin. Avoid this by keeping to the left and holding well back.
The sharp Acqua Minerali chicane is a good place to overtake, but no more than one car at a time. Out of traffic, the key to taking this corner steadily is to keep stable under braking and stay well away from the right-hand kerb as you turn in.
The Variante Alta chicane is fast at 130mph+ on a good lap, but in a long race take it steadily as it's an invitation to an accident. Being slow through the middle means you can get the power down early on the exit and maybe slip past a backmarker.
The slight right under the bridge before the run down to Rivazza is a death trap in the wet. Lift off the throttle as you go through.
The final fast esse at the Variante Bassa is best taken smoothly with minimal braking and without changing down. If you want to overtake going into the slow final corner you can, but will find the controls won't respond unless you're almost on the gearbox of your opponent, and gaining on him too. It's like the slow infield right-handers at Interlagos in this respect.
Here are my car settings for this circuit. The wing settings are low to allow easier overtaking, but you'd be advised to crank the rear up a couple of notches to make it less tail-happy. Tyre wear is low, so take the D grade and stop twice (perhaps even just once) over a complete race distance.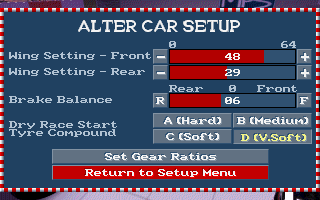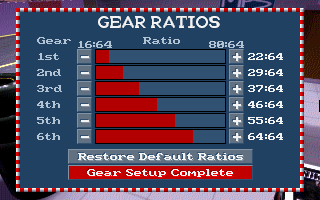 Settings for the San Marino GP at the Imola circuit