I thought it would be a nice bit of nostalgia to revisit the circuits of the original Microprose F1GP and share a few tips and car settings. I'll illustrate them with some YouTube videos of quick races I recorded a while ago. First of all, the golden rule, the one tip that overrides them all:
Don't try to set a fastest lap, but see how many laps you can do without having some sort of drama (brushing a wall or other car, or going on the grass etc.). Concentrate on driving smoothly and eventually the speed will come.
Some more specific driving tips that apply to all circuits:
Brake a little early and in a straight line. Spot the apex (the sharpest part of the inside of the corner).
Lift off the brakes and turn towards the apex, again a little early.
Now you should be dabbing at the throttle to keep the engine revs up, before flooring it as you straighten out.
Don't overdo it on the exit – you should feel the car moving back towards the middle of the road rather than staying glued to the outside wall.
The distinguishing feature of Phoenix is the sharp symmetrical 2nd-gear corners. It's quite easy to overtake going into these. Just be bold, plant yourself in the middle of the road behind your rival, brake earlier but not too early; get off the brakes early instead. This will give you the line into the corner.
Here are my suggested car settings. Tyre wear is high on this circuit, but go with the D grade anyway, though it does mean making three stops at 100% distance.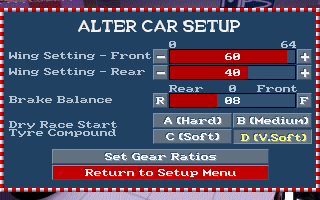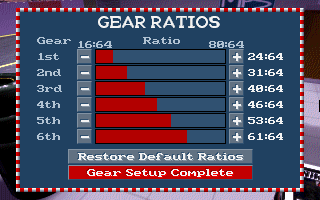 Settings for the US GP at the Phoenix circuit
Quick 3 lap race – F1GP @ Phoenix

See if you can win from the back of the grid in a 3-lap race. Then scale it up until you're seeing how many times you can lap the field over a full race distance. Happy racing!