It's the second race of the Championship and we're at the spectacular Interlagos circuit in São Paulo, Brazil. This will be a lot more exciting and challenging than Phoenix. Here are some driving tips
Brake late for the first corner a fraction after the 100m board and let the speed wash off as you drift towards the apex. Take it easy in the middle of the esse so you can floor it as you move into the long left-hand section.
The left-hander at the end of the second straight is similar to the first; brake just after the 100m board, but the corner itself is faster and smoother. Don't try to overdo it mid-corner, concentrate on getting a fast exit.
The fast right-hander in the infield is a challenge. Change down a gear, but be ready to really go for it on the exit. It's possible to overtake on the inside going into this one if you're confident, but be ready to back off if you mess it up.
The two slow right-handers in the infield are similar. Take them easy, clinging to the apex, just dabbing at the throttle to keep the revs up. Want to overtake here? Using the keyboard to jink past means taking advantage of a steering quirk; you must be both close to the car ahead and gaining on it for the steering to turn more than it already is on the gentle curve. This means hanging well back, suddenly advancing so quickly you risk a collision.
Be patient on the final left-hander onto the main straight, concentrating on getting a clean exit. Be patient along the straight too, holding back from overtaking until you've passed the final kink alongside the pit entry. Beware the car ahead may be getting a tow as well, and you get double the slipstreaming effect!
This is an exciting but dangerous race. Accidents are likely on the long main straight near the pit entrance if you don't drive cautiously in traffic and think ahead here. Overtaking on the straights is easy, but you can lose a lot of time in the infield if you don't learn how to overtake there too.
Here are my suggested car settings. Tyre wear is moderate, go with the D grade, and expect to make two stops at 100% distance.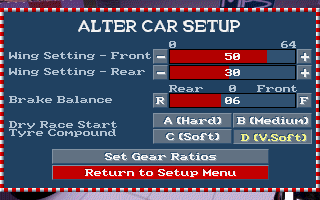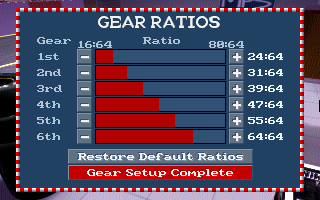 Settings for the Brazilian GP at the Interlagos circuit
Quick 3 lap race – F1GP @ Interlagos

Take care, and corridas feliz!